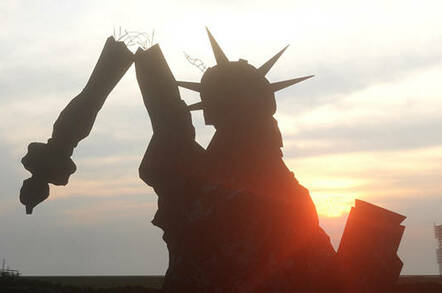 Source: How bad can the new spying legislation be? Exhibit 1: it's called the USA Liberty Act • The Register
If there wasn't a Big Brother and Ministry of Truth and Thought Police there are now all of them plus more.
This new USA Liberty Act has no Liberty in it! It makes domestic spying on anyone, anywhere in the world legal!
Already we have the Ministry of Truth in MSM News sites and cable channels controlling what gets reported and what does not, as well as changes to the news so it is fake and also using fake fact checkings sites like Snopes and Factcheck that also work like the Ministry of Truth in rewriting history. Students are no longer taught Civics and learn instead Social Studies and don't know how their government works. So every year or so new laws get passed that slowly take away our rights, liberties, freedoms, privacy, etc in exchange for fake security that does nothing to protect us but annoy us instead so we think we have security.
By law we are required to carry the following warning on all our pages:
The Surgeon General warns that this site may contain subversive material that is known to cause social and mental health problems. Use Blastar at your own risk. Blastar Responsibly. If irritation occurs cease use immediately, flush caches, adjust reality, rinse mind thoroughly and contact your nearest responsible adult for further advice. You may need to find a safe space from the truth, if so we recommend unplugging your computer and go out into the real world and find something creative and positive to do than just troll us here at our blog.
We are an Internet Organization that reports on news, about technology and politics and other stuff from around the world. We try to fact check every article we write with at least one reference or supporting pictures. We are not a troll site or fake news site, and we've been reporting on them to inform the public.
Youtube
Support Orion Blastar on Patreon
Or leave some feedback
We have an Affiliate program that can save you money on web hosting:
https://www.alpharacks.com/myrack/aff.php?aff=1703
Ask us about helping you to run a Wordpress site or any other type of site.
[ my public key: https://keybase.io/orionblastar; my proof: https://keybase.io/orionblastar/sigs/YoUM43_tizK4JOeTE8sopKjeGnUvuILo0hEkH7ZW0h8 ]
If you want to donate or help us out, here are some virtual cryptocurrency addresses:
Bitcoin: 13t19gedm7f8LSeZumjtCC6dVB8o9fk71Z
Litecoin: Lf217W7MB93Gam6HxgsS6NNXdU6jULFoVD
Eth: 0x8d188C2201B580F3C2023C3Cec9EbB5Bf5694127
BCH: 1DEwW6JPzPFzYqJJfUTjGGB9AVNdHSAiMF